Since Roane County was founded in 1801, it has been home to many talented people. Folks here might agree you don't need fame to be happy, but that certainly doesn't mean they would pass up an opportunity for the spotlight. With that said, you may want to grab your autograph book as we travel through time to meet a few Roane Countians who have found themselves under the local and national spotlights.
Bowden Wyatt was born in Kingston in 1917. He attended college at the University of Tennessee in Knoxville, where he played end on the college's football team from 1936-1938. After playing for UT, he became the assistant football coach for Mississippi State University. Wyatt took a break from his coaching career during World War II to serve in the United States Navy. After his time in the Navy, Wyatt became the head football coach for the University of Wyoming and, later, the University of Arkansas. In 1955, he returned to Knoxville as the Tennessee Volunteers' head coach, where he remained until 1962.
In 1956, the Vols won the Southeastern Conference and Wyatt was named the national football coach of the year by both the American Football Coaches Association and the Southeastern Conference. Wyatt passed away in 1969 and is buried in Rockwood. He was elected to the College Football Hall of Fame as a player 3 years after his death and again as a coach in 1997, making him the third man to be elected as both a player and a coach.
Felix Bushaloo Breazeale, also known as "Uncle Bush," was born in Roane County in 1864. Uncle Bush lived in Roane's Cave Creek community between Kingston and Lenoir City for many years. This average Joe became the center of attention when curiosity made him do something unorthodox: he held his funeral before his death. This funeral, which was held in 1938, became the talk of Roane County. The event drew in thousands of attendees from as far away as New York and Washington, and garnered media attention from Knoxville and Chattanooga. Uncle Bush liked what was said at his funeral, and he was so satisfied that he didn't want another one after his death. "This will be my only funeral, and I'm mighty well pleased with it," said Uncle Bush. Uncle Bush lived for 5 years after his funeral and was buried in Cave Creek.
One of the most famous people from Roane County is Wilma Wyatt, better known by her stage name Dixie Lee. Dixie was born in Harriman's Walnut Hill community in 1909 and spent time living in Knoxville and then Chicago, where her journey as a singer began. She soon started an acting career and moved to Los Angeles, where her fame increased. In Los Angeles, she married Bing Crosby, a singer whose fame would soon surpass Dixie's.
Dixie's time in Hollywood included a brief acting career during which she appeared in 18 films, including Red Heads on Parade and Love in Bloom. The films Dixie played in weren't successful, and she briefly turned to singing before retiring and focusing her attention on her family. Dixie died at the age of 42 in Los Angeles. She had a love for Tennessee and had plans to return one day, saying, "Someday I am coming back to the beautiful hills and streams of Tennessee, which will always be home to me." Today, a historic marker at the corner of Maple and Oak Streets in Harriman, as well as the street named Dixie Lee Way, remember Harriman's claim to Hollywood.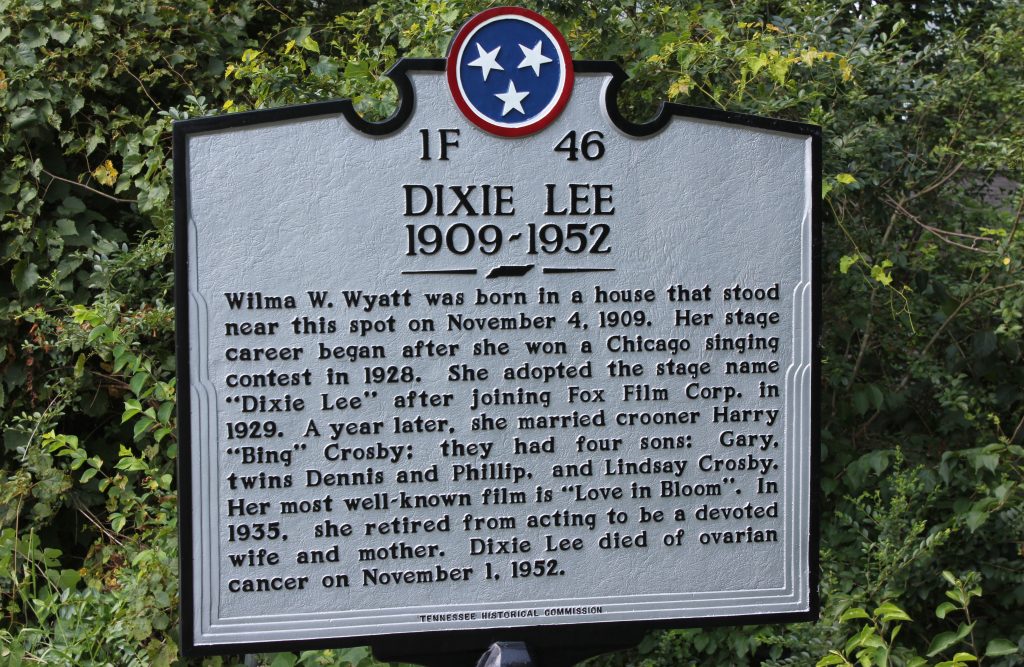 Lillie "Mother Ladd" Mauser was born in Oliver Springs in 1879. In 1898, she married Chris Ladd, who served as Roane County's sheriff. During Ladd's time as sheriff, five convicts escaped, shooting and injuring him. With her husband down, Mother Ladd stepped up to the challenge. She found 2 of the escapees and convinced them to return to jail. "Listen," she told them, "there are lots of the deputies who would love to kill you, and they're up here scootin' around in these mountains right now, and they'll kill you if you don't come back with me to the jail." After convincing the convicts to return, Mother Ladd made national headlines. She was elected as one of the first female sheriffs in Tennessee and served Roane County for 3 months. She later became a fraternity housemother at the University of Tennessee in Knoxville, where she earned her nickname "Mother Ladd." Mother Ladd passed away in 1981 at the grand age of 101 years old and was the grandmother of former House Majority Leader Howard Baker, Jr.
We hope you had fun meeting a few of Roane County's celebrities! We'd love to hear your memories (or the memories that have been passed down to you) about famous people from Roane County by using the hashtag #RoaneRewind! We can't wait to hear from you!